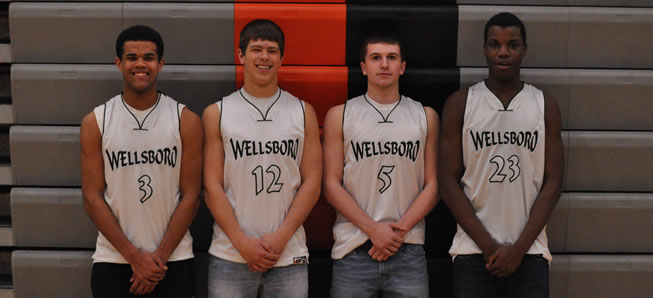 Jackson named All-Region POY & NTL West MVP
By: Ed Weaver | NTL Sports | March 18, 2013
Senior Jordan Jackson earned more recognition this season as he was named NTL West MVP and All-Region Player of the Year over the weekend.
Jackson led the Hornets with 358 points this season on a Wellsboro team that went undefeated in the NTL West and was the District IV Class AA runner up to Loyalsock.
NTL West Selections
Senior Matt Reese and Junior Dylan Prough were selected to the first team, while Junior Joey Doganiero, Sophomore Michael Pietroopla, and Sophomore Kieron Smethers were all second team selections.
All-Region Selections
Doganiero was selected to the All-Region third team, Reese earned All-Defense team honors, Smethers was named Rookie of the Year, and Pietropola was selected as the Shooter of the year.
WellsboroAthletics.com would like to congratulate these young men on their excellent season, and for all their hard work and dedication.
View the 2012-13 NTL West All-Star selections.
View the 2012-13 Towanda Daily Review All-Region Team selections.